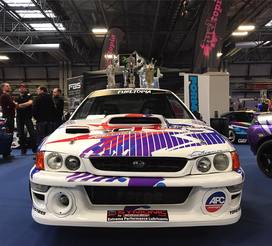 After a short time off from the racing scene and very needed recharge with the energy, I am ready to start the New Year with very peaceful, but yet very exciting and biggest in Europe Autosport International Show. I was part of this event for the 3rd year and enjoyed every single moment of it, especially, that my SCR Gymkhana Subaru was on display at Fueltopia stand representing Formula G and Barrel Sprint series.
​ We had very big space this time with many cars joined to show off and promote the Championships.
​ I would like to point on very few changes my car had after the 2016 tough ending, with completely new and redesigned front end fitted. I decided to use wider front arches and Scoobyclinic had 22b front spare bumper which was a perfect match! With thanks to professional bodyshop at Scoobyclinic, car had those panels resprayed and fresh livery applied. So at the show the car was bright and shine like just coming out from the factory!
​2 days with thousands of visitors, was definitely a good start for the coming season and it definitely got me around enough to see many awesome new projects and Motorsport developments at the show.
​I have many news to announce very soon in regards to some changes in my racing program, so stay tuned!
#
Scoobyclinic
#
SCR
#
ToyoTyresUK
#
PPGgearboxes
#
SamcoSport
#
PBCoilovers
#
PBbrakes
#
KodenHelmets
#
ForgeMotorsport
#
CompetitionClutch
#
ApcOvernight
,
#
MillfieldAutoparts
#
Syvecs
#
SilverLine
#
Synionic
#
TJMHussey
#
DmitrijSribnyj
#
Subaru
#
Impreza #NEC #ASI2017 #AutosportInternationalShow #Birmingham #UK​
Few shots below from Autosport Show with the restyling new look of the car.
​Photo credits with thanks to those who's watermarks in the images!



RSS Feed