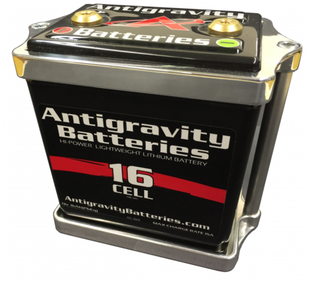 I am pleased to announce my new partnership with Antigravity Batteries!
This is probably worlds lightest, smallest, but most powerful batteries ever been made!
Antigravity Batteries makes Lithium-Ion batteries for Motorcycle, Power sports Vehicles and Race Cars. Made in the USA and offered in either OEM exact fit sizes or incredibly compact "Small Case" format that offers up to 80% weight savings over lead/acid batteries, with much better starting.

First time I noticed this product back in early 2016 at Autosport International Show in Birmingham during exhibition of my SCR Subarus on Barrel Sprint and Rallycross stands.

The batteries looked very small and attracted my attention. I picked one of those with my hand and what a surprise, it weighs nothing considering it was one of the heavy duty ones with 16 cells and producing 480 Cranking Amps with very exciting weight of just 1.5 kg - yes -1500 grams or 3.2 lb whatever your weight understanding is, that is extremely light!

After very pleasant conversation with Paul (official distributor of Antigravity Batteries in UK) and him going through all the benefits and technical details, I had no doubt about, that I need this in my life and desperate to test this in my SCR race car.

Shortly after the show I placed my order to receive my Antigravity 16 cell battery, Optimate charger and Optimate state of charge tester. All came with next day delivery and later that day it was installed in my Scoobyclinic Gymkhana/BarrelSprint car. Only issue I had, it was a bit challenging to decide where shell I fit such a small and light item, which can also be placed in any position including upside-down! This gave me so many options from unusual bulky and heavy acid batteries, that I spent more time with my creativity and imagination by test fitting it in all possible places until the best one I liked was finally granted! I must admit, that I was very excited with number of placement options was more than just few for usual heavy acid batteries.

One year on and I still got that battery, which never let me down, always starts with absolute feel of high cranking output and even after the cold winter break started half turn of the key with no need to be charged.
​
All I can say, this is truly reliable and fantastic piece of kit!
And now with my new ongoing project of BRZ86 All Wheel Drive Subaru the only battery I would go for is the Antigravity Battery! Especially, that the weight and size is one of the major factors in any race vehicle for the successful combination! So the decision was made and after several email exchanges with Paul, we both agreed on signing on the deal and beginning of our partnership!

Few extra accessories to the 16 Cell Antigravity Battery was:

Beautifully polished aluminium tray - will keep the battery safely in place with additional shiny touch!

Micro start air compressor - smallest I ever seen and pumps the tyre fairly quick!

Micro start XP-10, thats a must have tool for anyone needing a spare charge source! Smartphone, laptop or jump start a car, it even got a built in torch!

Lithium-Ion Battery charger and Battery state of charge tester both are nicely made and easy to use!
​

I guess my BRZ86 having a lot of love, massive thank you guys!