I am pleased to announce my new partnership deal with no other, but with RECARO! This name was always associating with Sports cars since I first heard of it being a kid and VW Corrado was first car where I saw RECARO SEATS in real life and that was back in 90's. Now almost 30 years later and I am signing a deal with this company, which was something unreal even to think about back then.

With short look in to the history, RECARO probably the most long established and best know car SEAT making manufacture in the world. The story of success behind today's RECARO Automotive Seating began in 1906, while the basis for today's company was formed in 1963 and first RECARO sports SEAT was unveiled in 1965 and in motor racing circles RECARO quickly became an acclaimed brand! Today RECARO produces wide range of seats to variety of different industries, such as Automotive Seating, Child Safety, Aircraft Seating and Special Applications.

With such a long term in the business and top of the range reputation by supplying Sports Seats to the car brands, such as Aston Martin, Lamborghini, Mercedes and around 30 makes of cars in Limited Edition or as standard equipment, I can surely say, that I be in most safest and coolest SEAT in the world piloting my race car to the win.

Very happy with this Sponsorship to go ahead, especially, that I already received my temporary pair of seats for the test fit in my new SCR #BRZ86 All Wheel Drive project and can not wait to test fit myself in them after installation!

Special THANK YOU to Joe from Capital Seating for making it all possible!
​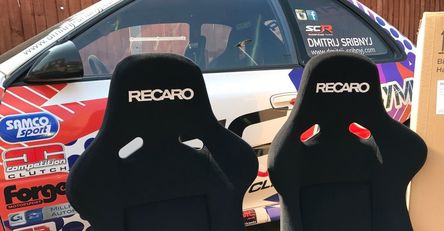 ---