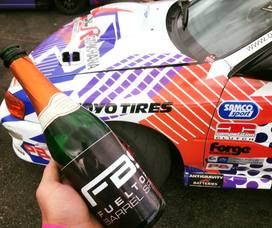 Fueltopia Barrel Sprint
Round 4 - WON!
It was another weekend full of racing! On Saturday I entered Barrel Sprint round 4 with my SCR GC8 Subaru, where I set the fastest times overall during the day and then won the battles in my class! Still going with stock engine and still pushing the car to it limits or perhaps to the set limits within the competition!
Then on Sunday we seen the Formula G test day and I decided to add a bit more flavour to the personal challenge and instead of taking the Subaru, entered with front wheel drive class in Peugeot 206, which was flying on 3 wheels with 4th up in the air at each corner and good fun to drive. But must admit, I did miss the Subaru and wish I was taking it instead, but due to coming soon Gymkhana Grid finals it was more of a safe play to save the car for main event.
Now it going to be one of the greatest challenges this season and thats a preparation for
Gymkhana Grid
finals, which will take place in South Africa in Carnival City near Johannesburg.
Car to be shipped out sometimes in September and the showdown set for 18/19th November! So the time is tight, but job to be done is big.
Lets see what me and
Scoobyclinic
can bring on to the table to race against big boys like maestro himself Ken Block and Petter Solberg!
Thanks to all drivers, visitors and
Fueltopia
team for great time and thanks to all my partners and Sponsors!
​
#Scoobyclinic
#RollCageDesigns
#ToyoTyresUK
#Samsonas
#BPT
#SamcoSport
#PbCoilovers
#PbBrakes
#KodenHelmets
#ForgeMotorsport
#CompetitionClutch
#ApcOvernight
,
#MillfieldAutoparts
#Syvecs
#SilverLine
#Synionic
#AntigravityBatteries
#TJMHussey
#HpiRacing
#HpiRacingUK
#Recaro
#DmitrijSribnyj
#Subaru
#Impreza