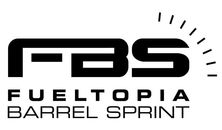 2017
Barrel Sprint
British Championship WON!
This is my 5th year in a row, that I have won in this race series and also got an award during end of season night for setting fastest time of the year!
​ It was a lot of work involved behind the scene to achieve this results, but with such great support from my sponsors,family, friends and supporters the almost impossible became reality! With massive credit to
Scoobyclinic
, who did an amazing job by keeping me up and running all season! Fastest car overall even with downgraded engine in most events! The professional set up truly mean
s a lot in the way car handles on track!
In terms of Barrel Sprint and Formula G Championships sumup, it was many ups and downs, especially, that I had not very good start to this season due to some issues car developed from 4 years in service, but have picked it up very quick by taking podiums plus extra points for setting fastest times overall. This was enough for me to claim my Barrel Sprint Championship win without entering the final round for the reason, that SCR Subaru was sailed off in sea and currently on the way to South Africa for the Monster Energy
Gymkhana Grid
.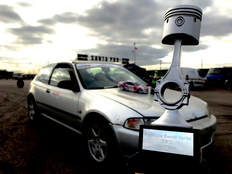 ​
But even so, to make the last day of FBS boosted, I entered the FWD class with my old 200bhp 1995 Honda Civic. It was not much of a competition in this class due to a lack of entrants, but I manage to bring another podium home with fastest time and the win in knockout battle. Then later a week finding out at end of season award night, that I have actually set fastest time of the year in Front Wheel Drive class as well as in AWD class. That was a bit of surprise even for myself, but I knew, that this little car was a smasher!



​ Moving to Sunday 15th of October with final round of Formula G Championship I needed to find an AWD car to be able to compete and score very needed points. With thanks to my friends Dmitrij and Dylan I managed to secure 2 very different cars for the morning practice and could choose one of them, which I be competing in qualifying and following battles. However, I still kept the Civic to enter in to FWD class as well, this strategy was to get my self the track learned without abusing the borrowed cars, but at the same time to give a tough competition to the Front Wheel Drive squad, which was very strong at Formula G all season, where I finished 2nd on podium this day.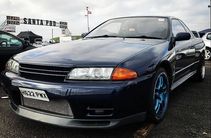 ​Nissan Skyline GTR R32 was the first one to get tested and I must admit, that car is an amazing piece of history in both street and track racing, but with it being set for road use, it was not able to complete the very tight and twisty Gymkhana track without further modifying to fit for purpose process. ​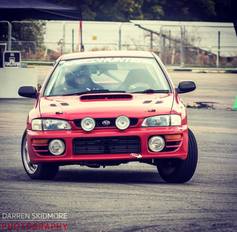 My next move was to get in to red dragon Subaru GC8. I knew that even standard Subaru came out from factory was ready for the challenge, unfortunately it was just a basic UK2000 model with no limited slip differential on rear axle, this meant, that by all means of physics and mechanical way of how things works, this car was not able to do a clean execution of the figure of 8 and 360 donut around the obstacle, not counting power wise it was lacking of at least 100bhp to be anywhere near it competitors. Even so, I was happy enough to put my skills in to use and after few practice laps got the car under control. During the qualifying with thanks to sticky Toyo R888R tyres, car changed it behaviour for the better way letting me set a better times and qualify 4th. If I would battle the same way in knockouts, then the win of 2017 Championship would be in my pocket, but with everyone pushing so hard I finished 5th. My position in Championship table got equal with the winner of current round setting both of us at 39 points. Very unusual situation I guess, but with decision from organisers the Champion was decided with who had most points for the podiums, that means, that my 4 points for fastest times in previous rounds was removed placing me on 2nd step of the 2017 Championship. What can I say, surely it was a bit disappointing, but on other hand, I gave my best and most important gave someone else the chance to win and be happy with what they love to do!
​

​

I would like to say massive thank you to all at

Fueltopia

team for making the series going strong and very enjoyable with all the professional track set up and timing systems, from Portatree lights and timing to Icaris timing track monitor app! It all really works well and enables to make any changes on car during event and see the difference in times, so any advantage after modifying can be easily determined and finalised! Special thanks to all media guys and girls, to capture the moment sometimes takes a while while to catch a great moment can take the whole season. Thank you all! Some of the shots are here on the right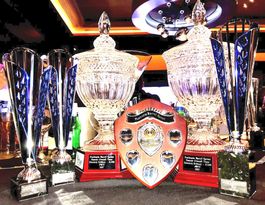 Week later at end of season Fueltopia
2017 Award night I was very excited to receive this lot of trophies, with massive thank you to everyone involved! It was a great year with many memories to keep me warm during the winter
​ On top of individual results me and my SCR team mate Bucky have won Barrel Sprint Tuner Challenge as Scoobyclinic team!

Thats the wrap for Fueltopia series this year, but I still got a job to do in South Africa at Monster Energy Gymkhana Grid and then in December I will hit the final round of Scottish Gymkhana Championship... So its not over just yet!

Massive THANK YOU to all my SPONSORS and PARTNERS!