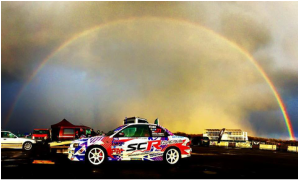 Scoobyclinic Barrel Sprint / Gymkhana Subaru makes it way out placing 1st place WiN in AWD class and setting the fastest time overall in 4 classes through the day!
Despite
we got all disasters coming on us.. Rain, snow, wind, then broken driveshaft in qualification, but still placed 2nd position on the table, then actual competition battles started with drive shaft replaced and me going through to the final to race for the first place.... Now....final run against Viper Motorsport newly built Subaru pushing over 500 bhp thats my call.... We start , we go and my cars front differential casing exploding in pieces on the very last obstacle... But !!! it doesn't mean we were out, it was just enough and keep diff in one piece to pull away from the fellow competitor and take the win!
I used Toyo R888 tires, which have helped to deal with wet conditions and provided excellent grip which led me forward to the finish line!
​
​What can I say? - " I am happy , but feel the pain for the car.. It takes so much in the tough racing, but its what it is, we race, we break, we fix and all over again..."

Special credit I would like to PB Brakes, which were recently fitted on front , this is 6 pot big brake calipers and 330mm vented and grooved discs supplied by www.
pbbrakes.com

I must say its an awesome piece of kit which gives so much more confidentiality in stopping and reduces the braking distance by impressive length! By the way exactly the same kit was fitted on my Rallycross SCR Subaru last season and it went through the whole 2015 with no issues and helped to bring me home the 2nd place in RX Championship.
Massive thank you to all of my sponsors!
Well done to all competitors and thanks to
Fueltopia
/
Monster Energy
crew for great event and
Official Santa Pod Raceway
for the venue!
Massive thank you to all my sponsors!!!
This is a great start for the season!
Scoobyclinic
‪#‎
SCR‬
TOYO TIRES
‪#‎
ToyoTyresUK‬
Pfitzner Performance Gearbox - PPG
‪#‎
PPGgearboxes‬
‪#‎
coolgearsforcoolcars‬
‪#‎
ppgears‬
‪#‎
PPG‬
‪#‎
Phitzner‬
‪#‎
Motul‬
PB Brakes & Coilovers
‪#‎
PBCoilovers‬
‪#‎
PBbrakes‬
Koden Helmets
‪#‎
KodenHelmets‬
Corbeau Seats UK
‪#‎
corbeau‬
Forge Motorsport
‪#‎
ForgeMotorsport‬
Shining Monkey UK
‪#‎
ShiningMonkeyUK‬
‪#‎
ApcOvernight‬
Millfield Auto Parts
‪#‎
MillfieldAutoparts‬
Syvecs Ltd
‪#‎
Syvecs‬
#BarrelSprint #Fueltopia #MonsterEnergy #Santapod
Below some photos from the day by Darren Skidmore and Daniel Fegent and added comments by me