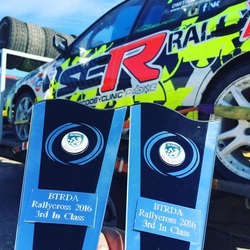 Double header weekend of BTRDA Rallycross brings double 3rd place on podiums in both rounds in 4x4 Supercar class.
​Round 3 & 4 took place in South Wales region at Pembrey Circuit on 2nd and 3rd of July and had over 70 cars entered to race on the mixtured surface track.
​ Warm and sunny weekend supported the event and made it a very pleasant and enjoyable for competitors and spectators by giving a perfect racing conditions.
​ Scoobyclinic Subaru was in top shape and performed through whole weekend with no faults. All components to make this car so reliable are supplied by best available products like PPG sequential gearbox system, Toyo Tires, PB Brakes, Samco Sport hoses, Syvecs ECU and other important bits and pieces which put together , tuned and serviced by SCR team!
So, day one seen a lot of action with positive improvement, however some damage caused by other cars on the first corner during the finals on Saturday made it very challenging to finish the race. With rear wheel bent and twisted I was hoping the tire will not pop as it was rubbing badly on the inner arch producing loads of smoke and car tried to kill me for the whole 6 laps of the finals, but luckily the Subaru's were built for tough racings and it did not let me down.
​After race was over I finally could step out from the car and look at the damage which were far more worst, than expected.. No time to loose the repairs took place there and then with thanks for the help from other teams (
Todd Crooks Motorsport)
the car was ready for Sundays race ..
​Still bent and ruined geometry with bodywork begging for some treatment , but drivable and ready for the battle I entered the heats. I performed with good progression by cutting lap times, and even came 2nd on Heat 3, resulting me being in good position on the grid for the finals.
During the finals the start didn't go as planned and with difficulty to launch the car , I was overtaken before the first corner by few cars, then after fighting for the better position, I made a risky move to try overtake one of the cars , but didn't succeed resulting in going to wide.... Well still finished 3rd in class, and car almost in one piece making it a good race overall...
​Overall results from the weekend was:
​Round 3 ( Saturday 2nd July 2016 ) Round 4 ( Sunday 3rd July 2016 ) Heat 1 - 4th Heat 1 - 3rd
Heat 2 - 3rd Heat 2 - 3rd
​Heat 3 - 7th Heat 3 - 2nd

Finals - 3rd in class Finals - 3rd in class
Very happy with outcome and looking forward for the next round.
​Very big thank you to all organisers and all marshals for amazing event at this fantastically panoramic countryside place - Pembrey Circuit!
Special thanks goes to all my sponsors:
Scoobyclinic
TOYO TIRES
Pfitzner Performance Gearbox - PPG
Forge Motorsport
PB Brakes & Coilovers
SamcoSport
Millfield Auto Parts
Koden Helmets
‪#‎
ApcOvernight‬
‪
#‎
T‬
&JMHussey
Syvecs Ltd
CorbeauSeats UK