​Road to Gymkhana Grid is a feature documentary following eight world-class drivers' journey to Johannesburg South Africa to compete in the World drifting Championship event.

Nikolett Szanto, Luke Woodham, Adam Elder, Shane Lynch, Petter and Oliver Solberg, Ken Block and myself are the featured characters in this film.

Film is a production from Insight TV in partnership with Monster Energy and directed by Mike Christie.
The documentary will air on INSIGHT TV on Saturday 14th April - SKY channel 564 at 19:00GMT in Ultra HD across UK

​Film be also available worldwide online at INSIGHT.tv on all devices – tablets, smart phones, smart TV. The content can be streamed in ultra-high definition and 4k.

​Plus it be aired across Russia and ex Soviet Union countries including Baltic States on 14th April via Tricolor TV on channel 51 / INSIGHT TV at 21:20 Moscow time.
---
The film is directed by Mike Christie, a filmmaker who concentrates on sport and has covered subjects including Alex Ferguson, ballet and extreme sports.

​I had a big pleasure to work with Mike and his team during the filming of this unique documentary and was able to let Mike inside behind the scene in my personal and race life by sharing my passion in Motorsport, so he can bring the world of Gymkhana out on the TV screens and tell the story to the viewers.



---
World premiere of Road to Gymkhana GRiD was set in London at The Bike Shed venue on 26th March 2018 and will be out on Insight TV from 14th April.

​Premiere at London was great, I was glad to see so many people turned up for the show including friends, family, fans and partners! I was truly touched by the positive feedback from everyone on the film.

Its not just about racing, but also about how your life can change in a positive direction with stories from each of the drivers, which are very different from each other, but united in one thing, which we love and live - Gymkhana Grid.

​This film is a finest example to tell what it takes to be one of Gymkhana Grid athletes with one of most interesting factors, that you don't have to be a millionaire to race against one.

​Everyone knows, that nothing is impossible, surely it cost you loads of your time and tonnes of effort, but as long as you got that wish and can see the target you trying to achieve on other side of a dark tunnel, then you are already on the route, just don't give up and you will see yourself where you want to be​​.
I had an amazing time through all the stages during the production and filming! I was able to visit my birth town Pripyat, where I never been for over 30 years, since the Chernobyl's power plant disaster accrued back in 1986, then showed around my daily life and job in UK and then fled on other side of earth to compete in Monster Energy Gymkhana Grid finals in South Africa! What a ride that was...
---
---
I would like to Thank everyone who was involved in the making of this film, I think I still don't know everyone as the production involved a lot of people, but all those who I met was an amazing people and very interesting to work with!
​
​#InsightTV #LSP #Velocity #MonsterEnergy #MikeChtistie #RoadToGymkhanaGrid #GymkhanaGrid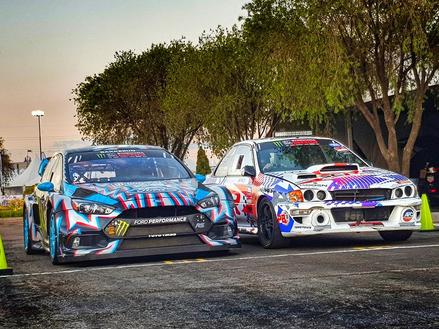 Separate thanks goes to all my Partners and Sponsors with special Thanks to Monster Energy and Ken Block for make all this possible!