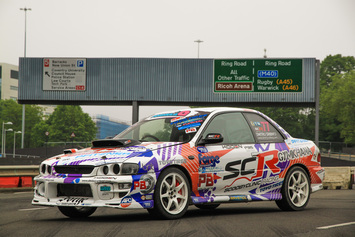 ​Fantastic weekend at Coventry Motofest 2016! - Very happy to be part of the show for the second year in the row, especially that since last year where only 2 Gymkhana cars were representing the sport series for the first time (me with SCR Subaru and Jake Archer with Kamikaze Impreza), then this year we had a 12 Gymkhana cars on separate allocated space on one of the ring road junctions, where we could demonstrate our skills and show to the public what is Gymkhana is all about on Formula G track. Due to a play field space being a bit limited we still managed to put an incredible show and completed major elements from Gymkhana technical driving of all styles.
Crowds absolutely loved our outings and were loudly cheering and whistling while each of Formula G cars been on stage! As the pit area was open to public, it was a great opportunity for the fans to come as close as they wished to our race cars and chat with each of the drivers about cars and Motorsport things...
The show expected to host over 150.000 visitors through the weekend and it looked very busy on all streets surrounding ring road, especially that the weather been truly summer hot.
On second day early morning I managed to do a few good shots on closed ring roads with Scoobyclinic Subaru being as a major object and Coventry main ring road tunnel on the background.
Special thank you goes to all organizers of the Motofest show and to our race series management Fueltopia / Formula G team!
As the 2017 dates for Coventry Motofest already been set to be on 3/4th June, make sure that you put those in to your diary! This show simply not to be missed and
​I am looking forward for the next years attendance!
​For more info please visit official website at www.
coventrymotofest.com


Many thanks to all my sponsors for continuous support and help in my racing career!

​
Scoobyclinic
TOYO TIRES
Pfitzner Performance Gearbox - PPG
Forge Motorsport
PB Brakes & Coilovers
SamcoSport
Millfield Auto Parts
Koden Helmets
‪#‎
ApcOvernight‬
‪#‎
T‬
&JMHussey
Syvecs Ltd
Corbeau Seats UK