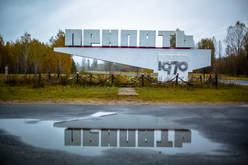 Reunion

​ Today 37 years ago I was born in young, modern and very beautiful town Pripyat. I had an opportunity to reunite with my home town last weekend for the first time in 31 years, this was more than just a visit. One week later and I am still out with my blown mind. I was struggling to face the reality and was absolutely lost, the worst part was the aftermath and that's when I got back to UK and my brain was able to process the information I received, which was truly shocking to accept. I must admit It was very strong on emotional side, but I do feel good about being able to get so close back to the place my eyes first seen in my life, despite it have changed, very changed, changed so much, that I was not expecting myself to react the way I did on the things I have seen… But yes, I am very happy, that this puzzle been solved, because I had so many questions and now most of them got an answer. Also, I am very thankful to everyone involved who took the part in my reunion journey, which I will never forget.
---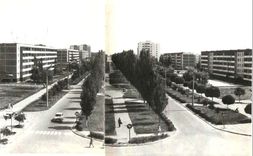 Brief story of the town and my family
​
Pripyat was founded in 1970 to serve the nearby Chernobyl Nuclear Power Plant. With first families started to move in 1972 and in it peak time around 50000 people were living in this town including my grandparents and my mum who still was a teenager at the time of move. New home town was full of hope with promising bright future for everyone who lived there including my family.
My Grandmother worked in City Council of Pripyat and Granddad was a tile layer covering sites within town and Power Plant.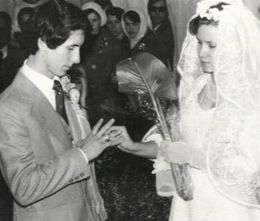 My Parents

​ In 1979 my mum married my dad and a year later I was born with the new life story to begin. My father was serving a 2 year term in army during that time, so my grandmother have sent him a telegram to tell, that he got a boy. I just can imagine how he felt somewhere so far to receive this news, I am sure it made him happy and proud. My dad got back from the army service when I already was 1.5 years old, then him and my mum started to work at "Jupiter" factory based in Pripyat, factory was producing radio equipment and stereos.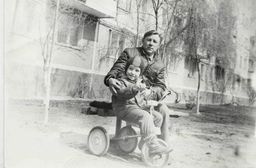 Later in 1983 my dad had an opportunity to be involved in building of Nuclear Power Plant in republic of Lithuania, so he went there to work and then my mum followed him in 1984. Me and my Grandparents stayed in Pripyat with me going to nursery "Druzhba". My parents been coming back home to visit us often and treating me with presents. One day I remember, when I was at nursery and teacher told me, that someone waiting for me outside, she said it was a surprise and led me out. There was my dad staying with my first ever bicycle, it was a 3 wheeler one and it was so cool, I was so happy to see my dad and loved my present.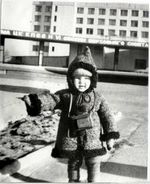 Memories
​​
​ It was many great moments which I remember with a smile each time, like my first ice fishing with my Granddad at nearby river and my first ever remote controlled car, which my Grandmother hidden in cupboard just days before my birthday, but me finding it in advance and she not been very happy about it, then very tasty red strawberries, which we have grown in our summer garden. Most funny was, me playing with Granddads tools in corridor of our flat and me loosing one of the nails on the floor until we all found it stuck in the feet of our screaming neighbour, who came to visit my Grandma. All these are positive memories which keeps me reminded of my childhood early years.
---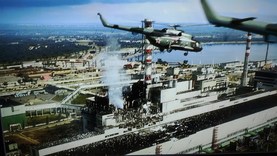 Disaster

​"On Saturday, April 26, 1986, a disaster occurred at Reactor No. 4, caused by a catastrophic power increase resulting in core explosions and open-air fires. This caused large quantities of radioactive materials and airborne isotopes to disperse in the atmosphere and surrounding land. The disaster has been widely regarded as the worst accident in the history of nuclear power in the world. As a result, Reactor No. 4 was completely destroyed and currently being enclosed in a concrete and lead sarcophagus to prevent further escape of radioactivity. Large areas of Europe were affected by the accident. The radioactive cloud spread as far away as Norway"
​
Many lives was lost during and after the liquidation process of the accident due to a radiation poisoning. But because of those heroes, who spared their lives, thousands of people including myself had a chance of survival.
---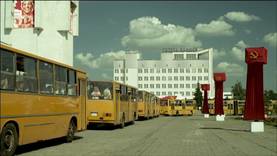 ​ The end and the beginning
​
For me and my family, that was the end and the beginning at the same time. I was 5.5 years old and clearly remember the day after the explosion. My grandparents talked about the loud bang during the night they heard and it felt worrying as they were not sure what's going on because the information on radio was very limited and people in town had no update on the event. Later the day me and my Granddad went to our summer garden, on the way I can remember the road with the view of the Power Plant tower surrounded by smoke and helicopter flying around it. Only the day after it was announced, that we must leave the town and evacuation process begun. We were told only to take our documents and very few things in the bag enough for few days. It was also said, that leaving the town is only temporary matter and we will be able to get back. Me and my Grandparents were sat in one of the hundreds yellow busses and drove out of town outside of 30 km exclusion zone. On the way out the only oncoming vehicles we met was the military BTR and that was the moment my grandmother realised and said "we are not going back". Sadly, that was the truth and later it was officially announced that it would not be possible to return to Pripyat due to the high levels of radiation. We was taken outside of 30 km exclusion zone and stayed there for about 2 weeks in one of the allocated villages in one of family homes, which was offered by volunteers. Then my parents came to pick me up and took me to Lithuania where they had no choice, but settle from that point on. And my grandparent was advised by the doctors to settle in the place with less sunny and chill climate, so they had not much of choice either and returned to their home place in fairly northern part of Soviet Union.
---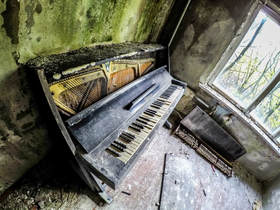 Our flat

​Below is set of photos from our flat in Pripyat. During my visit it was not much I could find from whats been left, only very few things. Not sure why and when, but it all was taken by someone. All the things have been contaminated with radiation, just hope that who ever was clearing the flat was aware of the danger and not done greedy business.. I truly was hoping to find at least something from my toys, especially a paper yellow bus, which I got only few days before the disaster and left it in my room before we left, unfortunate it was absolutely nothing... One of the remaining's was my mums piano, I don't remember it much because my mum never played it and it was more like a piece of design spice to add to the interior.
---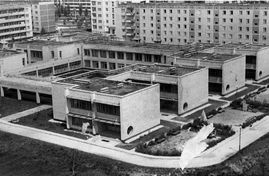 My nursery - "DRUZHBA"

​​ Below some photos from my nursery "Druzhba" where I went. I remember it as a warm colourful place, but it has changed a lot. Some of the toys and books are still laying in place they were left 31 year ago with buildings starting to shred. It was amazing to see very familiar things like beds, toys and straight walk around path outside around the building. It be very difficult to remember how exactly it was back then, but being there I had very welcome feeling of something very well known to my self.
I think this nursery was not raided by vandals and robbers as much as our flat and most others,because at least something was left there to remind of what this place was before.
---
Attraction park

Amusement Park of Culture and Rest been newly built and set to be opened on 1st of May 1986 in time for May day celebrations, this never happened. I was not aware of this fact until our guide told us about this dramatic few days of shortage, this probably explains, why I have not got anything in my memory from riding at any of the attractions especially the observation wheel and bumper cars, but this park being so famous and ​have become a symbol of the Chernobyl disaster
---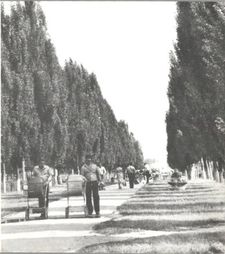 ​ Random Pripyat from my visit

Below is a set of random photos of Pripyat today, I would say, that the place I remember most out of all is the avenue with very high Poplar trees, this was the main street in town and was very beautiful. I walked there each time from our home to nursery. And now its all look more like a jungle, but those Poplar trees are still there and they are caring the memory of it past days glory!
Most of the town looks very sad only the autumn gold colours add a bit of the hope. I am just thinking, that it would be a great idea if this town could be rebuilt, somewhere in the safe place, with the same architecture and streets, that would be amazing.
---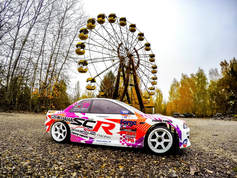 Adventure of Hpi Racing / SCR replica Subaru in Pripyat
​
Few years ago I had an idea to bring my SCR Gymkhana car to Pripyat, but due to an advise from local authorities about the risk of radioactive contamination, that plan was left up in the air for indefinite period. But during last weekends reunion with my home town, I had no doubt about at least bringing my the only one in the world official Hpi Racing replica RC model, which is an exact copy of my real race machine. It was a hard decision due to the cars direct contact with the ground could cause contamination and there fore no way to bring the car back home, but with thanks to Hpi, who made another copy of the car just encase if the first one will get effected I was able to take it with me worry free.
---
Photos of humans in Pripyat
I guess this is it, once again I would like to thank everyone involved to make this trip possible and thanks to everyone who took a part by joining me, I dont think I could accept such an experience on my own. Some of the things were so terrifying, that only the knowing of a better world could help to save from nightmares.