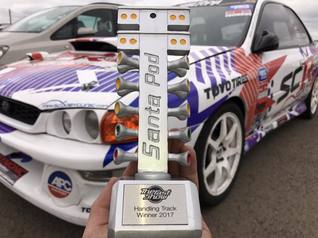 The Fast Show at Santa Pod Raceway was ever busy with both days full of action and challenging competition.
I managed to set fastest times during weekend with nice trophy for winning the handling track competition for the 5th year in the row!
​Also had very needed time on track with freestyle driving, which was ideal for extra testing after recent issues I had. With thanks to Scoobyclinic team for sorting all electrical bugs, which were the cause of all trouble in my races earlier this season!
​
Of course I could not go away without breaking something, but thankfully it was just another driveshaft and few sets of destroyed R888R Toyo Tires, which took the most of my aggression and was punished to the core.
Overall car felt great and now I am looking forward to hit the track in coming weekend with Round 2 of Barrel Sprint Championship.
​
Massive credit to all my Sponsors for help and support in my Racing program!
Scoobyclinic
TOYO
Tires
Roll cage designs
PB Brakes & Coilovers
SamcoSport
Silverline-UK.com
Forge Motorsport
Synionic UK
Millfield Auto Parts
Competition Clutch
Pfitzner Performance Gearbox
Antigravity Batteries
#TJMHUSSEJ #ApcOvernight
Syvecs Ltd
Koden Helmets
​
#Scoobyclinic #RollCageDesigns #ToyoTyresUK #PPGgearboxes #SamcoSport #PbCoilovers #PbBrakes #KodenHelmets #ForgeMotorsport #CompetitionClutch #ApcOvernight, #MillfieldAutoparts #Syvecs #SilverLine #Synionic #TJMHussey #HpiRacing #DmitrijSribnyj #Subaru #Impreza