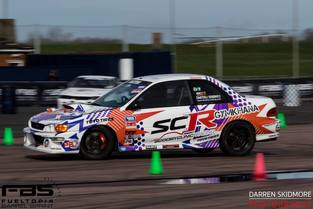 Fueltopia double header weekend at Santapod Raceway had two stories.
FBS RD1 on Saturday my SCR car had a mystery issue with shutting it self down and allowing me to do only 1 full run in qualification,which booked myself in to the 6th position. Having a bit of time on the car the problem thought to be found and fixed. During knockout battles full of confidence and BANG on the first barrel and car cuts off second later again... The end for the race day and having a go to investigate the damage it appeared to be the output shaft of the gearbox, which is snapped, making no drive to rear wheels while electrical bug still to be found...
With no spare part and limited turnaround time for Sunday I had to retire the SCR Gymkhana car for the rest of weekend. What happens now with Formula G?
Not having a lot of time for the options I made a move by posting the "NEED A CAR" on my social media channel and people started to respond. Wow, it works I thought, with number of options of car I would like to thank everyone, who was giving those offers with specially thanks to Yordan from LD Performance and Ian with Sha from Pole Position! Thanks guys!
But it was another offer which was more suitable in the end and would not cause a lot of hassle to save the race day!
Unfortunately one of the other teams driver were not able to compete on the day, this gave me a good thought and it was mutually agreed with Kamikaze Racing, that I be driving their Subaru Impreza Van for the day. This worked out in favor for both of us with me able to score championship points and Kamikaze Racing team to keep their car on track!
In the morning I met with team and quick talk about the car I was in drivers seat to take 3rd place on podium!
Sounds not bad to me, considering it was not my SCR car, but with joint combination of
SCR
driver behind the wheel and Kamikaze Racing Subaru we did fantastic job together!
Surprisingly it was a very well set weapon apart few minor thing which I recommended to change for the future.
Once again thanks to RJ , Jake and Dan from Kamikaze Racing UK ! This truly shows and proves the greatness of Sportsmanship!
It was great to catch up with everyone after prolonged winter break with many thanks to Fueltopia team for continuing do all they can to it best regardless of terrible weather conditions on Sunday.
As for my SCR car it being worked on now and be ready for the next round later this month!
Many thanks to all my Sponsors even, that its not the car which you look after, but my car which you support makes to build my driver profile to the level where other race teams with no doubt are happy to lend me their cars with their trust in to me and my skills! So its the win, the win for all of us!
#
Scoobyclinic
#
SCR
#
ToyoTyresUK
#
PPGgearboxes
#
SamcoSport
#
PBCoilovers
#
PBbrakes
#
KodenHelmets
#
ForgeMotorsport
#
CompetitionClutch
#
ApcOvernight
,
#
MillfieldAutoparts
#
Syvecs
#
SilverLine
#
Synionic
#
TJMHussey
#
DmitrijSribnyj
#
Subaru
#Impreza
​#KamikazeRacing #BarrelSprint #FormulaG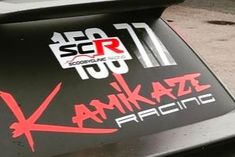 Photo credits to :
​
MOTORV8 MEDIA
D-Media
Darren Skidmore
​CRT MOTORSPORT PHOTOGRAPHY
EVERYTHING DRIFT