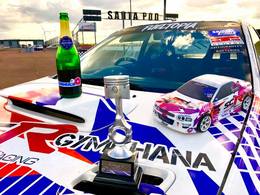 Formula G Championship
Round 3 - WON!
Setting the fastest time overall in practice, then fastest in qualifying followed by the win in knockout battles of my AWD class!
Surprisingly even to myself I managed to drop in to 32 second bracket while the fastest drivers were in 33-34 second runs.
With regret in recent loss of my 2.5 engine few weeks back in Scotland, which served me for more than 3 years,
my temporary 2.0 stock engine performed not bad at all! Breaking the driveshaft during the practice and smashing best times definitely needed some effort to boost that little displacement, but BPT turbo combined with Syvecs ecu and professional mapping at #Scoobyclinic gave a victorious package. I must admit, that power and torque range was
far away not as aggressive to what I am used to, but if the job was done, this means it was good for it! Also considering the fact, that the car still wasn't running day before the event, with credit to SCR team
for doing an impressive job by wiring engine loom and mapping the beast with it new replacement motor just in time. This is just proves one more time, that guys at Scoobyclinic are truly one of the best in the world with getting things done!

Thank You to all my sponsors and partners for the continuous support!
Thanks to Fueltopia crew for the event and Santa Pod Raceway for the venue!
Well done to all competitors! It was great to catch up with everyone and see you all at next round!
???
#Scoobyclinic #RollCageDesigns #ToyoTyresUK #PPGgearboxes #SamcoSport #PbCoilovers #PbBrakes #KodenHelmets #ForgeMotorsport #CompetitionClutch #ApcOvernight
#MillfieldAutoparts #Syvecs #SilverLine #Synionic #AntigravityBatteries #TJMHussey
#HpiRacing #HpiRacingUK #DmitrijSribnyj #Subaru #Impreza #MyHpi #