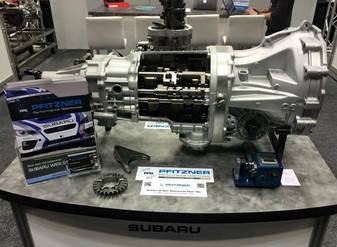 Awesome news -
Pfitzner Performance Gearbox
provides support for 2016 season!
As a result of a strong association with Pfitzner Performance Gearboxes over the past few years I am delighted to announce that we have signed an agreement which confirms that PPG will supply with one of its market-leading high performance 6-speed sequential gearbox system. It will be installed by
Scoobyclinic
and run in both our SCR Gymkhana and Rallycross Subaru Imprezas and will be used during the whole of the 2016 season.
The PPG 6-speed sequential system is the best of its kind in the world and will definitely improve the cars performance. This arrangement could not have come at a better time, as we have a very busy and fiercely competitive season ahead of us next year. I see this as a significant step forward in our relationship with PPG, as it takes our association to another level.
PPG has earned a reputation for producing some of the most durable automotive gear sets and sequential engagement systems in the world. This has been achieved through innovative design coupled with technologically advanced engineering and manufacturing processes.
The company is proud of its motorsport credentials, as competition plays a large part in its success, this active participation seeing its products tried, tested and proven in the most demanding of conditions.
For further details on these and other high performance PPG products, visit:
www.ppgearbox.com.au