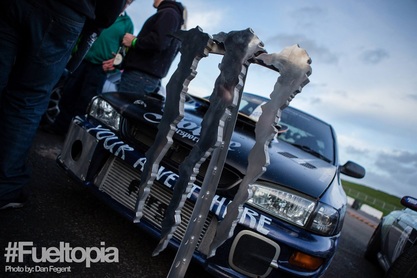 Fueltopia Barrel Sprint final round have been completed...
Won 1st place and became champion of FBS 2013 in overall points, that was a hard thing to do, as only was 1 point above of Richard Dalby-Smith
I am very happy with this result, as 2 of 5 rounds FBS in this season wasn't very lucky at all for me because of issues with the car i had by destroying engine in round 1 , but setting up a record time and then electronic issue in round 4, so this 2 rounds are the loss., but other rounds not to forget ....lol.. luckily getting second place at round 2 while running faulty laggy cracked turbo and then surprisingly winning 1st place at round 3 with broken hand..ha-ha... well and this final round made it all....
I want to say MASSIVELY BIG THANKS to my wonderful Jurate Juratele as she was with me at every event and done best support i could ever expected ...I LOVE YOU darling so much..
A LOT OF THANKS TO All my SUPPORTERS and FRIENDS (PAUL,LISA,JAY,POPPY) WHO was with me and supported me through the season AND MEGA THANKS TO ALL OF MY SPONSORS who have done so much for me and the car, I am really glad that i was not alone this year!!!
SCOOBYCLINIC,FORGE MOTORSPORT,APC OVERNIGHT,SYVECS,MILLFIELD AUTOPARTS

Also big respect to Fueltopias organizers for doing such a great events great to compete, great to watch!!!

As the UK racing season finished , its only one thing left to do and it is
EUROPEAN GRAND FINAL of Monster Energy Gymkhana Grid
next weekend 2nd November in Madrid ,Spain...!!!