SC Turbos are Direct Fit to Subaru Impreza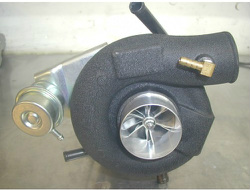 The concept behind our Billet wheeled turbochargers has led them to be the market leaders in turbo technology. Our Billet compressor wheels are stronger and 33% lighter than their cast counterparts, they also have custom aero designs on the blades which enable them to spool quicker and produce more power. The rating is in the turbo chargers name i.e. SC36 Billet is a 360 BHP turbocharger, the SC42 a 420 BHP turbocharger, etc. However the very nature of the aero allows them to move more air than their cast bladed counterparts, therefore more power than they are rated for, with the correct supporting mods of course.
Supplied with gaskets, water pipes oil feeds and drains!!! these TURBOS truly are a direct fit, no chopping out lumps of block or bell housing to fit them, no changing up pipes or down pipes these really do just bolt on. We recommend that your car is set up or mapped after fitting one of these stunning turbo's.
---
---
---
---
---
SCOOBYCLINIC RACING 6 pot 330mm Front Brake Kit

Kit includes everything you will need except brake fluid:
Pair of lightweight strong aluminium caliper
Pair of race specification rotors
Pair of lightweight aluminium bells
Pair of steel brackets
Pair of braided brake lines
Set of brake pads
Full fitting kit AND Fitting guide
Choice of caliper colour
330mm brake kit requires a minimum of 17" wheels




Rotor and Bell Assembly:
Balanced rotors to ensure optimum performance, the kits come pre-assembled and ready to fit. The bell is manufactured from lightweight aluminium. Keeps unsprung weight to a minimum and reduces servicing costs.
SCOOBYCLINIC RACING calipers are CNC machined from aluminium, with S45C steel CNC mounting brackets for strength and accuracy of fit on your vehicle.
SCOOBYCLINIC RACING brake pads offer an excellent fast road and mild track experience.
We are able to offer a wide range of alternative pads to suit your needs.