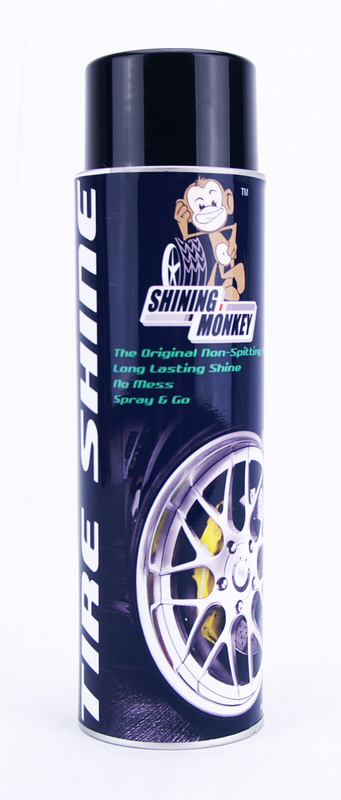 No Spit Tire Shine
SKU:
The Original No Spit Tire Shine! No Fling, No Sling!!
No More Greasy Sloppy Wheels!! Awesome Satin Shine!!
Shining MonkeyTM No Spit Tire Shine is a revolution in tire treatment that gives you an exceptional shine that lasts for weeks not days. Our unique non oily, non greasy formula will not spit up on to the car body after it has been applied and is safe for all wheel and tire finishes. Spray it once for that Back to Black finish, spray a second application for an amazing Satin Shine, and a third time for that Super High Gloss Shine. Simply wipe off any over spray with a dry towel. No wiping required and most importantly No more messy black spots on your paint!! Also great for plastic bumpers, side steps, door sills, and wheel wells. Use this on any exterior plastic or rubber parts to get that like new look!!

No Spit Tire Shine 12 oz (340g)

•The Original Non Spitting Tire Shine
•Dries to a Perfect Satin Shine
•Spray on - Walk away
•No touch, no wiping
•Repels brake dust and water
•Long lasting scent
•Perfect Shine, Every Time!
•No fling, No sling!